The T-Birds
Unlike the T-Birds of the original Grease, the G2 T-Birds are a parody of cool; in other words, they're about as far from cool as they can be, and Stephanie can sense it. She dumps Johnny, the T-Birds' leader, and dreams of her "Cool Rider"...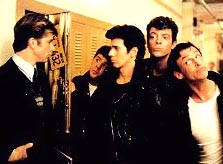 The T-Birds are:
Johnny, Goose, DiMucci, and Davey.
Oh, and maybe, if he can become a "Cool Rider"... Michael.
For more images of the T-Birds,
visit our Multimedia Gallery.